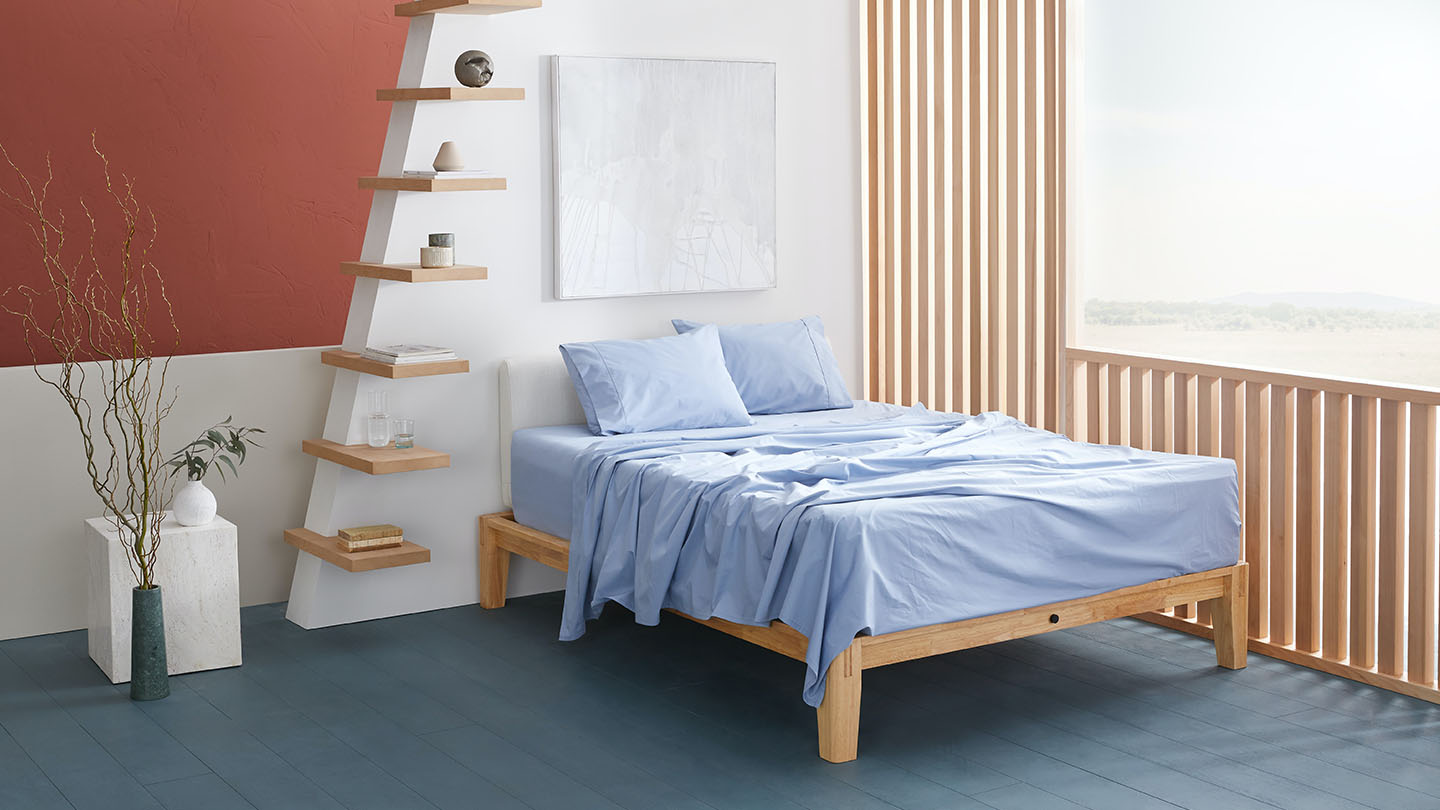 Make it chic, make it quirky or just go with the classic look.
Our vast range of bed sheet sets gives you a plethora of choices. Just pick, tuck & go with all options available in fitted & flat bed sheets.
Designer Cotton Bed Sheet Sets Online
The luxury and comfort of a designer cotton bed sheet set cannot be understated. Quality materials, craftsmanship and style all come together to create the perfect sleeping experience. Whether you're looking for something to provide you with warmth in winter or a way to keep cool in summer, there is an increasing number of designer cotton bedding sheets available online. Kotton culture is one of the best choices out there, it can be hard to know where to start in your search for the perfect cotton bed sheets.
The bedroom is a place to rest, relax, and recharge after a long day. One of the most important components of achieving a comfortable sleeping atmosphere is having the right fitted bed sheets. Designer cotton bed sheet sets are an excellent option for those looking for both quality and style in their sheets. Cotton is known for its natural softness and breathability, making it ideal for anyone who values comfort.
Types of Bed Sheet Sets
Having a comfortable bed to sleep in is essential for getting a good night's rest. Finding the right type of bed sheet set for your mattress size and personal preferences is an important part of making sure that you have the ideal sleeping experience. The two main types of bed sheets are fitted and flat – each having its unique benefits. Fitted bed sheets offer an adjustable snug fit that wraps around mattresses securely, while flat bed sheets have straight edges and lay on top of the mattress like a blanket. Fitted sheets usually come with elasticized corners that help keep them in place, making them great for mattresses with depths ranging from 6 to 18 inches. These sheets often provide easier access to the mattress than standard flat sheets due to their adjustable fit.
Fitted bed sheets are one of the most important components of a comfortable bedroom. They keep your mattress looking neat and tidy, while also providing extra softness and warmth. Not only do fitted bed sheets make your sleeping area look attractive and inviting, but they're also essential for maintaining the lifespan of your mattress by protecting it from stains and dust. There are many different types of fitted bed sheets available on the market, each with its own features and benefits.
Flat bed sheets are a common household item found in almost every bedroom. They are an essential part of the bedding set, both for comfort and hygiene. Not only do they provide a soft surface to sleep on, but they also protect the mattress from dirt and wear. When it comes to flat bed sheets, there is much more than meets the eye.
Shop from a Wide Range of Cotton Bed Sheets Online
For those looking for a comfortable sleep after a long and tiring day, cotton bed sheets are the perfect solution. Everyone desires to sleep in utmost comfort and nothing beats the feeling of pure luxury from snuggling up in soft, smooth cotton bed sheets. Shopping for bed sheets can be overwhelming with so many options available online, but it doesn't have to be! 
With our cotton bed sheets, you can shop confidently knowing that you will receive the best quality and value for the money. Kotton culture's selection of cotton bed sheets contains all types of bedding necessities. Choose from a variety of colors and sizes to find your perfect fit. We offer cotton bed sheets in queen, king, and twin sizes. Shop now to find your favorite cotton bed sheets today!
FAQs on Cotton Bed Sheet Sets
What Are the Two Types Of Bed Sheets?
Bed sheets typically come in two main types: flat and fitted. Flat sheets are the larger of the two and usually measure around 90 inches by 102 inches for a full-size bed. They are designed to be laid on top of the mattress, similar to a blanket or comforter. Fitted sheets are slightly smaller, measuring around 75 inches by 54 inches for a full-size bed. These have elastic edges that wrap around the corners and sides of the mattress to keep them in place. 
Flat sheets can be used alone or with a duvet cover, while fitted sheets are almost always used with another type of cover on top. Both types of sheets can be made from various materials such as cotton, flannel, silk, or synthetic fabrics like polyester. The material you choose will depend on your personal preference and budget.
What Is the Best Way to Care for A Bedsheet?
Caring for your bedsheets is an important part of keeping your bedding clean and comfortable. The best way to care for a bedsheet is to wash it regularly. Depending on how often you use it, you should aim to wash your sheets once every one to two weeks. It's also important to use the right detergent and water temperature when washing your sheets. Use a mild detergent and cold or warm water to avoid damaging the fabric. Additionally, avoid using fabric softener or bleach as these can weaken the material over time.
When drying your sheets, try to avoid putting them in the dryer if possible. Instead, hang them up outside in the sun for a few hours and then finish off in the dryer on low heat if needed. This will help keep your sheets looking their best for longer.
Which Bedsheet Fabric Is the Softest?
Cotton is one of the softest fabrics for bed sheets. It's lightweight, breathable, durable, and temperature-regulating, making it a great choice for year-round use. Cotton is also hypoallergenic, meaning it won't irritate sensitive skin or cause allergies. The fabric is also easy to clean, so you can rest assured that your sheets will stay fresh and comfortable for years to come.
What Thread Count Is the Best for Egyptian Cotton Bed Sheets?
The best thread count for Egyptian cotton bed sheets is typically considered to be between 300 and 600. Higher thread counts can be found, but they are generally more expensive and may not necessarily provide a better sleeping experience. Thread count refers to the number of threads per square inch of fabric, so higher thread counts mean a more luxurious feel. 
Egyptian cotton bed sheets are known for their superior softness and durability compared to other types of cotton. The extra-long fibers in Egyptian cotton create a strong yarn that produces a very fine thread with an exceptionally high thread count. This makes it ideal for creating soft and luxurious bedding that will last for years to come. 
Where Do I Buy the Best Sheets?
When it comes to where to buy the best sheets, there are many options available. Department stores usually carry a wide selection of sheet sets in different fabrics and sizes. Online retailers such as Amazon offer a vast array of sheets from various brands at competitive prices. Specialty stores that focus on bedding may also have higher-quality sheets than department stores or online retailers. Additionally, many luxury hotels sell their own branded sheets which can be an excellent option if you're looking for something truly special.